ARMALINK PREMIUM ROLLING GRILLES
Armalink 95 Honeycomb Rolling Grilles
Armalink 95 is an attractive, continental-style rolling grille, which offers extremely high security, as well as excellent looks and through vision, for both internal and external applications. This grille can be constructed from galvanised steel, stainless steel or aluminium and can be self-colour or powdercoated to a wide range of colours, as well as anodised aluminium. These choices, coupled with a wide range of lattice styles, mean that the grille can be tailor-made to individual taste or design requirements.
The Armalink 95 grille is available with a 240V tubular, or 3-phase motor and can be supplied with a wide choice of operation systems, such as: keyswitch, group control, remote control or access control systems.
These grilles are now available security rated to prEN 1627-30 level 3 (RC3) burglary resistance, incorporating an innovative electronic locking system.
ARMAROLL V200 HIGH-SECURITY TRANSPARENT GRILLES
The Armaroll V200 grille is a tough grille, constructed of heavy duty 3mm transparent links with tubular joiners forming a brickbond pattern.  The grille gives good through vision of up to 90% with daylight of 95%.  These grilles are ideal for applications such as shopfronts, shopping malls and high-security areas.
The grille can go up to 12M wide and 7M high and the polycarbonate is UV stabilised and includes anti-scratch treatment.  It can also be supplied in transparent, frosted or other colours, whilst the tubes are anodised.  An additional advantage of polycarbonate is that it is flame retardent with low toxicity, it can also be easily cleaned with water and is resistant to most chemicals.
The Armaroll V200 is supplied with a 240V tubular motor and can be supplied with a wide choice of operation systems, such as: keyswitch, group control or remote control.
The grille is very secure as it can bend but doesn't brak and has been successfully tested to burglary resistance class 3 (RC3) to EN 1627-30.  The grilles can incorporate a manual locking system or an innovative electronic lock.
ENQUIRE ABOUT THIS PRODUCT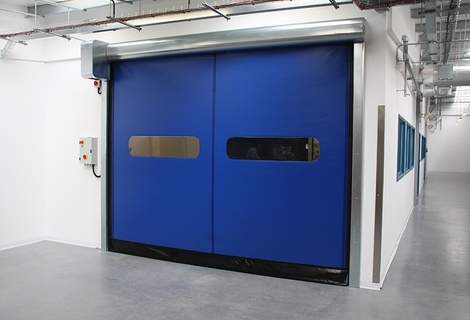 Rolls Royce Solution for GKN Aerospace!
GKN Aerospace is a world-leading manufacturer of aerospace Engines and components....