ARMAROLL V100 TRANSPARENT POLYCARBONATE ROLLER SHUTTERS
Armaroll V100 shutters are constructed from tough polycarbonate with intermediate aluminium sections, creating an extremely strong yet attractive barrier, giving visibility of around 80%. These shutters are ideal for areas such as shop fronts and public buildings such as airports and banks.
The shutters can be constructed from 5mm or 6mm polycarbonate which gives UV protection and lasts a long time with good weather and impact resistance and is easy to clean, we can also offer an optional scratch resistant model. Polycarbonate also has good fire-resisting properties, being almost non-flammable and self-extinguishing. The polycarbonate can be opaque or clear and the aluminium sections and side guides can be standard natural anodized or in a powder coat finish to a RAL colour.
The shutters are usually electrically operated with a 240V single-phase motor with a choice of control options, ranging from push button to remote control. The product offers very quiet and reliable operation and has a 2 year guarantee on materials.
The shutters are also available security rated to ENV 1627-1630 class 3 (RC3) burglary resistance. The security level 3 burglary test includes a practical burglary attempt using a selection of tools, as well as dynamic and static load testing. The shutters can also incorporate an ingenious electronic locking system.
ENQUIRE ABOUT THIS PRODUCT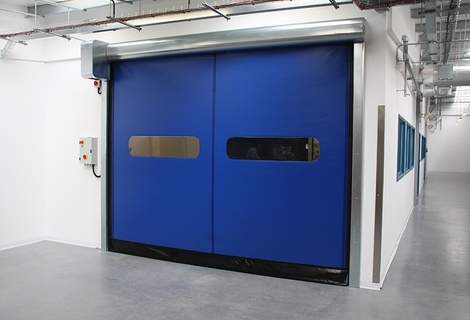 Rolls Royce Solution for GKN Aerospace!
GKN Aerospace is a world-leading manufacturer of aerospace Engines and components….